The Dental Therapist
We're really delighted to welcome Abbie to our clinical team. Abbie is a dental therapist.
A dental therapist can carry out all the duties of both a dental nurse and a dental hygienist
and much more.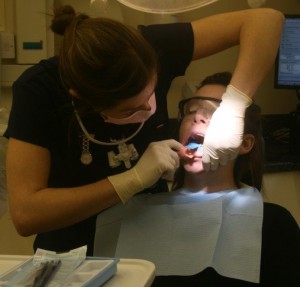 She can whiten patients' teeth

She can take impressions for a number of treatments

She can carry out almost all treatments for children including fillings and even extractions

She can fill adult teeth and place temporary dressings if a tooth is broken

She can de-sensitise teeth and provide preventive treatments.
Because the overheads of a dental therapist are somewhat lower than those of the dentist, many therapist fees can be provided at a discounted rate.
We know you'll be impressed by the service Abbie provides. If you'd like more of your routine treatments carried out by her please ask Joy at reception who can give you full details of what is possible.
To return to Newsletter Click Here